Weddings & Special Events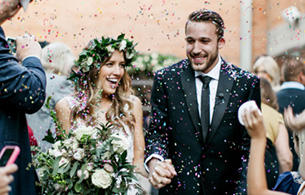 Memorable weddings don't just happen. They require outstanding food, gracious service, elegant presentation and distinct style. At Our Kitchen to Yours, your event is as important to us as it is to you. From casual afternoon celebrations to elegant evenings, Our Kitchen to Yours is committed to provide you the highest quality catering. Choose from any of our popular menu options or we can customize a menu to your specification and budget. You'll love our style because it reflects your style. Let Our Kitchen to Yours help create a wedding of a lifetime!
Use the form below to tell us briefly about your event and the type of menu you are interested in, and we will contact you by phone within 48 hours to discuss your event details and provide you a catering quote.